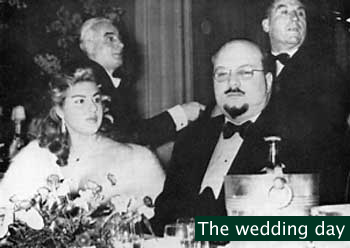 Born into a ancient noble family in Naples.
At eighteen she married the king of Egypt Fouad Farouk and takes the title of Royal Highness Fouad Farouk.
After the death of her husband, she continues to study opera in Rome with the soprano Maria Caniglia and later moved to Milan, where she studied with soprano Mercedes Liopart.
She debuted in 1967, in the role of Liu, at the Opera Theatre in Rome in the Turandot by Giacomo Puccini and, later in 1967, assumed the role of Leonora in Il Trovatore by Giuseppe Verdi.
Afterwards, Mario Del Monaco chose Irma for the role of Desdemona in the Othello of Giuseppe Verdi, for Pagliacci by Leoncavallo (Nedda role), Giuseppe Di Stefano for Bohème of Giacomo Puccini (Mimì role) and Pagliacci of Leoncavallo (Nedda role).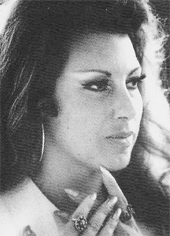 She sang in many Italian theaters, including: Verdi in Trieste, Fenice in Venezia, Regio in Parma, Comunale in Florence, San Carlo in Naples, Bellini in Catania, Massimo in Palermo, Massimo in Cagliari, Petruzzelli in Bari, Regio in Turin, Greek theater in Taormina and Siracusa and in other major Italian theaters.
She also performed abroad in the major lyric theatres in Germany, Austria, Luxembourg, United States (old Metropolitan), Spain, Egypt, Portugal, France, England, Ireland, Holland, Switzerland, Malta, Monaco, etc., with some of the greatest international opera singers (Mario Del Monaco, Giuseppe Di Stefano, Bruno Prevedi, Anselmo Colsani, Tito Gobbi, Boris Christoff, Giangiacomo Guelfi, Piero Cappuccilli, ecc)and orchestra directors (Rescigno, Cillario, Capuana, Votto, De Fabrizis, Molinari Pradelli, Pretre, Lopez Cobos, ecc). Among her last public appearances, a concert on the occasion of the restoration of the Cathedral after the earthquake in Cagli.
During career, she has received many awards, among which: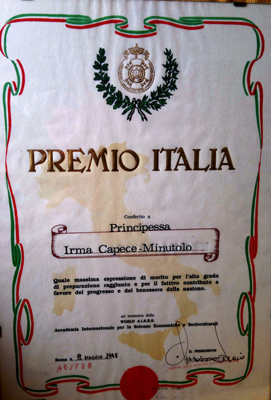 Miss Melodrama (1966), while still studying lyrics at the Teatro Grande in Brescia and performing songs by Giuseppe Verdi
National Oscar as Tribute to Art (1980)
Maria Callas Gold Plaque conferred by OIPEC (1989)
Recognition for the recovery of a human life, for her human touch, conferred by Pompeian Music Association (1991)
Lifetime Achievement Award (1999) awarded by TV Cine Arts Theater Clasis Rome.
Prize awarded by Italy World A.I.S.E.S. (International Academy for Economics and Sociocultural) (1999)
Foyer Des Artistes (2004) awarded by the Centre international school of Culture, Arts, Science, Social Commitment
Prize awarded by the Regional Council of Lazio.
Prize awarded by the Lazio Region
Giordano Award for the interpretation of the works "Cena delle Beffe" at the San Carlo Theater in Naples and "Marian Month" at the Regio Theater in Turin
Prize at the Cilea Theater Comunale of Reggio Calabria, for the numerous interpretations of Adriana Lecouvreur in major Italian theaters
Award for Volunteer National charity concert for the organ donation and transplants and AIDS seminars and information (1999) conferred by the AIDS Reference Center of the Campania Region
Pentagramma Prize
Prize "A life dedicated to art and culture", awarded by the city of Fiuggi
Gold plate "Mario Del Monaco"
Gold plate "Beniamino Gigli"
Gold plate "Maria Caniglia"
Gold Prize "Fiorino in Florence"
Prize "Tre Fiammelle in Foggia"
She also participated to many singing contests, as president of the jury or Committee member:
President of the International Competition "G.Lauri Foxes" (Latina - 2000, 2002, 2004, 2006).
President of the National Competition Myongij University of Seoul (Korea - 2002) followed by, again in Seoul, song and scene lessons of Italian authors.
President of the International Competition Gartajena "(Spain - 2005).
President of the International Singing Competition "Mediterranean" (Bari - 2009, 2010).
Committee member for the International Competition of Choral Singing Seghizzi (Gorizia -2005).
Committee member for the International Competition Vincenzo Bellini (Caltanissetta - 2008).
Committee member for the International Competition Jury Baroque Music (Ercolano - 2009,2010).
Committee member for the International Competition of liric singing Anita Cerquetti ( April 2015 )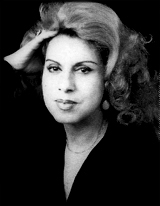 To note her participation in several films, including:
Neapolitans in Milan (1953) by Eduardo De Filippo
Rich and poor (1954) by Roberto Amoroso
The Young Toscanini (1988) Franco Zeffirelli (with Liz Taylor)
Shakespeare's The Tempest (1986) by Sergio Pastore
In a night of moonlight (1989) Lina Wertmuller
Crazy Painties (1992) by Roberto D'Agostino
Boom (1999) by Andrea Zaccariello
Fantozzi 2000 - Cloning (1999) by Domenico Severni
She has been invited on television programs, both as guest and commentator, among which: appearances in Sottovoce, Harem, Maurizio Costanzo Show, In Famiglia, La vita in Diretta, Piazza Grande, etc..

She currently teaches in the international school of singing, which she herself founded in the '90s. This school has produced my winners of singing competitions ("Maria Caniglia" of Sulmona, "Giacomo Lauri Volpi" Latina, "Nuovo" in Spoleto, "Mediterranean" in Bari and "Baroque Music", "Return Victorious", Herculaneum).
In 2010 a student was chosen as main character for "Roberto Devereux" at the Rome Opera.
During her career, she has conducted several free concerts to raise funds for the conservation of parks and nature reserves
The Disco State has acquired all of her recordings.